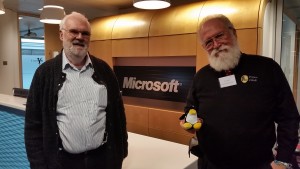 On 24th March we were north of the border at the IT Providers Consortium Scotland (ITPCS).  ITPCS is a group of colleges that are working together to share knowledge and best practice to improve the IT learners' experiences and outcomes.
Open to non-consortium members this event, "Future Trends: The Evolution of Security, Mobility, Data Science and the Cloud", gave attendees an opportunity to understand the skills gap faced by employers, as well as the opportunities for potential employees and the best ways to prepare for employment.  It also offered educators resources to help them deliver HN and NC Computing Units, as well as the chance to network with employers, certification bodies and peers.
Here at Future Cert, representing LPI in the UK & Ireland, we work hard to be at the forefront of developments in the education sector and that means having a major presence at events like this.  Joining speakers from Microsoft, CompTIA and the Police Scotland Cybercrime Unit, Chairman of LPI and an advocate of FOSS, Jon "maddog" Hall brought an interesting spin on an event hosted and facilitated by Microsoft.
In his talk maddog explained his views on the important role FOSS has to play in education: "Use of Open Source in education allows the students to see how the software does its work, not just what it does. And I agree with Andy [Nagle, Microsoft] that you need to understand your tools.  The best way of being able to do that is by being able to see how it works. Free software encourages collaboration; it allows students to use the same software everywhere. What do I mean by that? What happens when a student is doing co-operative education and they have a licence to use the software in the classroom but the licence does not extend to the work they are doing for their perspective employer? Now they have to buy a potentially very expensive piece of software to be legitimate. "
But the Open Source and FOSS invasion didn't stop there.  It was mentioned on several occasions.  Amongst the delegates was Annie Chase-Macaulay of Cheeky Pea.  Annie has built a business with little prior technical knowledge or coding, Cheaky Pea sells "animations" to users of Second Life. During her talk she discussed how she used Blender and Gimp to build these animations.
And the conversation wasn't limited to the classroom.  maddog had the opportunity to meet and thank Tony Dyer from Forth Valley College. Tony Dyer (and Forth Valley College) have been carrying the beacon for Linux in Scotland for many years. Tony's work with SQA (Scottish Qualification Authority), has used LPIC 1 to build:
SQA DH3A 34 Multi User Operating Systems
SQA D75S 35 Computer Networks: Administering Network Systems
SQA H180 34 Systems Development: Introduction
This means that a student can earn an academic qualification at the same time as obtaining a Certification in Linux.
Future Cert would like to thank Iain Shand, Glasgow Clyde College, ITPCS and Microsoft for organising such an open and informative day.